Fanatic Sports is a global leader in sports ticketing and hospitality with offices in countries like India, Singapore, Dubai and North America. The client is the official hospitality and ticketing partner for some of the topmost sporting events like Commonwealth Games, cricket world cups, Olympics, UEFA European Championships, Wimbledon to name a few. They have also created a niche for themselves in case of talent representation, official merchandising, VIP hospitality service, creating fan communities and event management for corporate incentive travel. In fact, Fanatic Sports was appointed India's only 'Authorized Ticket Reseller' for the Rio Olympics 2016.
Critical


Business Challenges
As a global sports ticket reseller client wanted a scalable solution to democratize access and streamline the ticket booking process.
They wanted a cost-effective solution with rich features, supported by a team of trusted professionals.
The client wanted to save on infrastructure cost and personnel resources. Instead, they wanted a centralized platform that could meet the evolving needs of customers allowing the business to grow in the coming years.
31 %

Increase in Online Conversion Rate

26 %

Increase in Website Traffic

46 %

Increase in Ticket Booking Rate

42 %

Boost in Online Financial Transactions
Here's How We Did


What We Did:

We helped Fanatic Sports to reach out to millennial sports lover offering seamless ticketing service and the highest level of hospitality for sports events of every scale, at par with the size and complexity of the Olympics.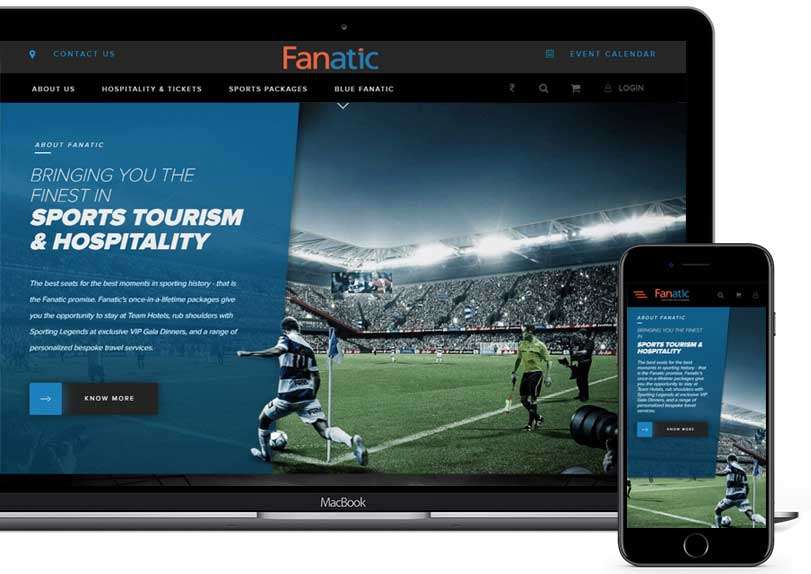 Impactful Business Solution for Exceptional Entertainment Experience
We offered a robust platform that was a perfect combination of functionality and scalability, improving the entire purchasing process.
We powered up their sales and service with an exceptional mobile experience that's incredibly fast and user-friendly.
Our smart data analytics enabled the client to get a thorough insight into online traffic and millennial visitors, making it easy for them to connect with the target audience.
Seamless integration with leading payment portals eradicated possibilities of failed payment allowing the client to recover more revenue.