SahlEdu is a leading portal that has managed to revolutionize primary and higher education in the Middle East and all over the world. Sahledu is a common meeting platform for students, teachers, parents and even schools so that they can easily collaborate, discuss and learn in a healthy and informal environment. The website is an excellent platform for group work and learning aiming to cover all aspects of school education in the Middle East and over the world.
Critical


Business Challenges
They needed an online social app for the schools in Saudi Arabia that brings together school, students, teachers and parents in one place on one centralized platform with a special feature for group discussion to exchange views and perspective.
The client felt the need for a centralized school management system that could be operated easily with defined user roles and accurate monitoring of performance and daily activities.
They also needed a high-end repository for storing all e-learning documents that could be accessed at any time to avail relevant information.
36 %

Increase in Student Attendance

28 %

Enhanced User Experience
Here's How We Did


What We Did:

We designed a comprehensive online training platform ensuring smooth communication amongst parents, teachers and students to enhance the entire learning experience.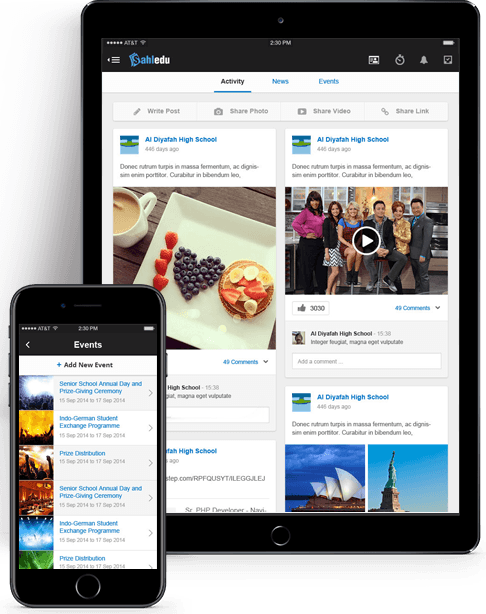 Feature Rich Platform Makes Learning More Social and Engaging
The app enabled the school to post various ongoing social media activities to keep the students, teachers and parents updated.
We created a special forum for group discussions authorized by specific schools or teachers.
Sharing files within a group of school or teachers became easy. The students who had permissions could access all the shared files.
The app enabled the school or the teachers to create polls and take opinions of the students and parents on a particular topic, event or subject.
The app also featured a featured event segment where the management updates about the tournaments, functions, talent contest, etc.
Delivered a social communication medium using which students can easily share their knowledge on social networks.
Making Education more Accessible
The app enabled the school to set up classrooms, assign teachers and promote interactive sessions among students.
The classroom facilitated the sharing of information and files within permissible limits that is granted to the students.
We built an intuitive timetable tool for the school, students and teachers which help in effective work-management thereby enhancing productivity and efficiency.
A dedicated messaging tool has been integrated with the app that enabled a seamless communication between school management and parents.
This customized app also enabled the school to set up group to-do lists with a work schedule that needs to be completed. Assigned students and parents can view and comment on this group to-do list.