Lotus's (formerly Tesco Lotus) is a physical retail chain of hypermarkets, department stores, and express shopping centers in Thailand operated by the Charoen Pokphand Group. The large offline retailer underwent a digital transformation exercise to begin offering their offline catalog through online channels in 2013.
Critical


Business Challenges
Lotus's online operations encompass two very different product portfolios- one for FMCG products and another for electronics retail. As verticals, both entail a very different approach and meet different consumer needs.
In 2021, Lotus's worked with Navsoft to solve key delivery and order fulfillment issues for their electronics vertical. Long lead times between order placement and delivery were leading to inventory consolidation issues and several unhappy customers.
Same delivery time slots for all product types. No flexibility in delivery timings.
No installation slots available post delivery of products.
150 %

Increase in Turnover Rate

100 %

Mobility in Operation
Here's How We Did


What We Did:

Navsoft helped Lotus's online delivery channel get more streamlined and appear as one virtual storefront to the end customer. In a country as vast and complex as Thailand, distributing inventory across locations based on the most common purchase patterns in these locations is the only way to achieve process efficiency in eCommerce retail.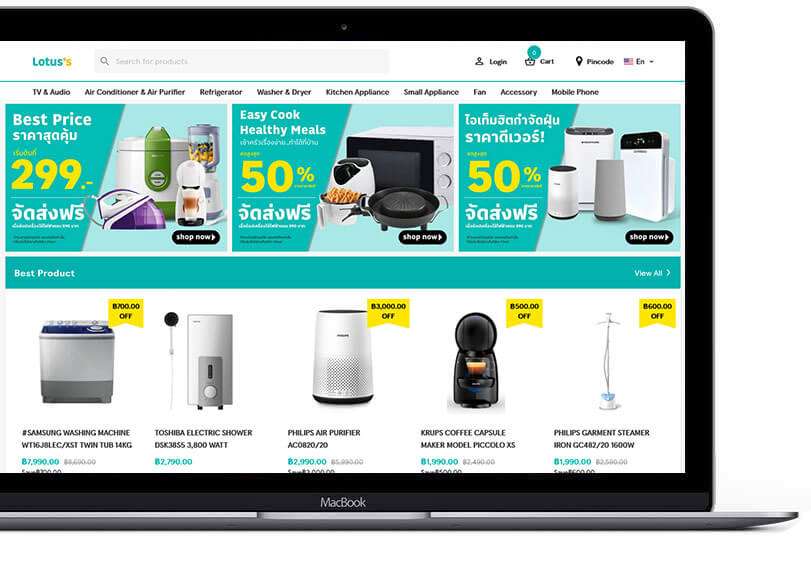 Distributed inventory management that's in line with market needs
Electronics purchase patterns do not follow the same trend as FMCG products. A small-value electronic item might be an impulse purchase, but larger appliances are considered choices made based on several factors.
Navsoft helped understand this nuance, and translate that into a seamlessly distributed inventory storage system.
While the backend operations were distributed across hubs, dark stores, and warehouses in Thailand, the individual consumer could continue to experience brand Lotus's as a single virtual entity.
Consumer experience at the forefront of every solution
We built a system that allowed end consumers to choose their time of delivery and installation to ensure that orders could be fulfilled faster.
With the choice of installation being given to them, consumers could begin to enjoy their purchases faster as well, learning to better brand perception.
During regular sale periods and festive spikes alike, inventory from across the country could be integrated into a single dashboard, enabling order fulfillment within promised timelines and meeting their delivery SLA.
Daily scheduler was added to accelerate new risk processing and making those live instantly on the portal.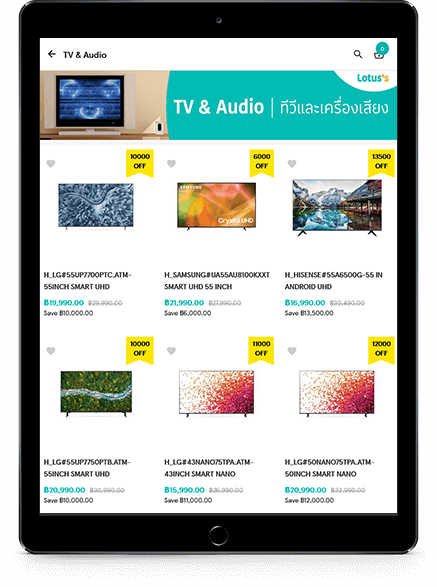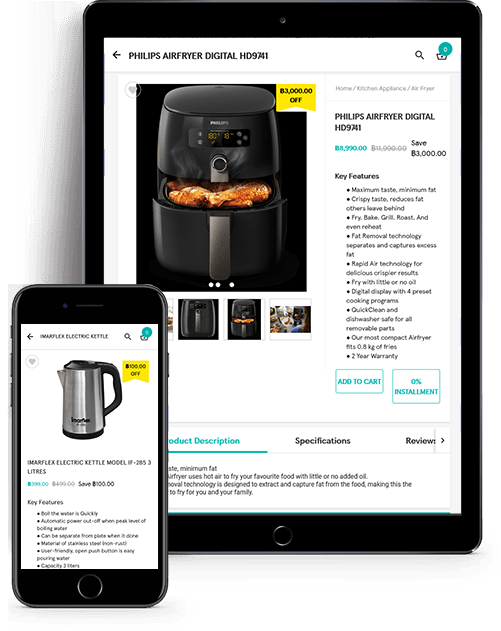 Seamless digital transformation for enhanced productivity and boost in revenue
Our marketing analytics and smart reporting tools gave an insight into the trends and competitions, thereby making many opportunities for cross and upselling.
With the centralized platform in play, the huge database of customers became more streamlined and commissions were calculated with pinpoint accuracy. The productivity of agents could be tracked on a real-time basis.
The unified view of the database helped customer service agents to offer relevant products and increase the sale and renewal of term risks.
Special agent interface made it easier to check customer risk details at any time. The integrated contact management, product view and risk payment handling enabled effective management, keeping costs under control under tight schedules.
We designed a website that personalized a customer's journey significantly at every step with the right combination of products, rich content and user-friendly interface.