India's 'Best Performing' Maharatna Public Sector Undertaking, Bharat Petroleum Corporation Limited (BPCL) mainly operates in Oil, Gas and Fuel related, Industrial and Commercial services (Bharatgas, lubricants, aviation, refineries, BPRL, international trade and proficiency testing). The company is ranked 342nd on the Fortune Global 500 list of the world's biggest corporations.
Critical


Business Challenges
The client needed a robust and scalable online platform that seamlessly integrates operations, amplifies reach and delivers an engaging shopping experience.
They need an omni channel solution that offers seamless performance across all touch points with highly optimized order delivery to meet changing customer demands.
A smart portal to effortlessly manage a large number of products, product categories, promotions and offers.
They also wanted seamless real-time synchronization of Trent's stock with Shopongo to provide updated stock to customers.
28 %

Reduction in Transportation Cost

59 %

Improved Customer Service

52 %

Reduced Time & Efforts

35 %

Increase in Efficiency
Here's How We Did


What We Did:

With our fully integrated platform, we leveraged online grocery shopping with personalized offers, excellent service, on time delivery, smart recommendations and efficient management.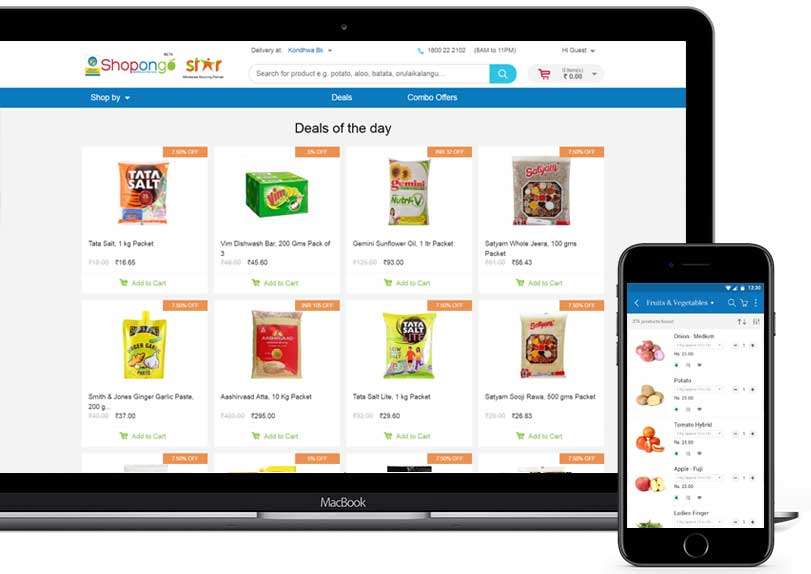 Seamless Order to Last Mile Delivery – Best in Class
We delivered an efficient last mile delivery solution that could assign delivery personnel automatically with real-time tracking while on transit. We also enabled a smooth customer care facility with regular updates on order scheduling and canceling.
We optimized inventory levels by determining current stock, products shipped and items awaiting shipment.
We ensured efficient vehicle, area, time slots and delivery personnel management as per requirement.
We also added a smart 'delivery planner' to make the entire process less time-consuming and enhance operational efficiency.
The client could create delivery slots as per convenience, schedule as per vehicle capacity, delivery fleet management, delivery zones, personnel and many other things.
An Intuitive & Personalized User Experience
Product display was personalized basis customer's geographic location.
Smart Search displayed the right product information instantly.
The checkout process was optimized with smooth delivery scheduling.
Special 'Subscription' feature made it convenient for customers to place a repeat order for a frequently needed item.
A smooth customer-care system was set-up to send regular updates on order scheduling and canceling.
A real-time stock update was enabled with an option to be notified when an unavailable item is restocked.
We designed a console for the admin to update offers and promotions through customized push notifications at regular intervals to delight customers.
'Smart Basket Reminder' feature boosted conversions by notifying customers of the products left in the cart.
We increased productivity by automating warehouse operations and adding a barcode scanner based GRN process.
We also boosted the conversion rate with an optimized checkout process and smooth delivery scheduling.