Todopuebla.com is the smart online directory, dedicated to connecting the citizens of Puebla valley, Mexico with local services, events and entertainment options in and around the state. From finding a local restaurant to satiating midnight snacks craving at night to a hit cinema that is running in a nearby theatre, Todopuebla helped citizens to find all.
Critical


Business Challenges
The client needed an intuitive website with additional features for other categories of services in their online directory.
They wanted to make the entire experience interactive, intuitive and user-friendly for the citizens as well as business owners.
They depended on admin moderation and hence only had about a couple of hundred businesses listed in the directory. They needed more popularity and new businesses to sign up.
32 %

Increase in Business Registration

26 %

Increase in User Count

10 %

Increase in Website Traffic

37 %

Boost in Mobile Page Views
Here's How We Did


What We Did:

With our fully integrated platform, they could enhance their directory of local listings into a more updated and comprehensive one. The updated site gave citizens the power of better interaction with local businesses and avail exclusive offers. The portal became a part of the daily lives of the citizens of Puebla.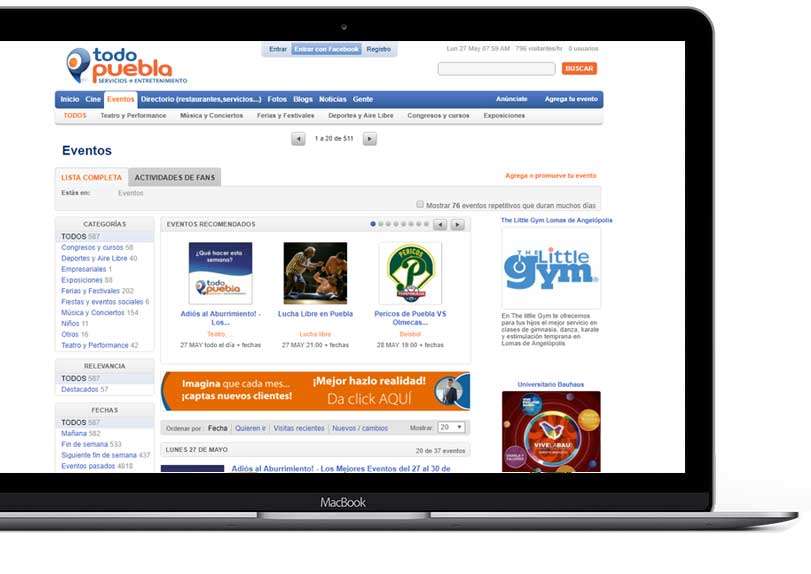 Putting Users First
Navsoft redefined the look and feel of Todopuebla.com by focusing on the convenience of the citizens of Puebla earning them the loyalty of the locals.
User Registration feature empowered users to create their own account, post reviews, or create listings on the site.
New 'Entertainment' category was introduced to list cinemas, local events, and photos of top events for intuitive searching.
A map was integrated on the site to visually prompt / look up preferred activities and services from nearby local businesses.
Newsletters were being sent out regularly to keep the citizen updated about all local events or any new business listings.
Users could also log in through Facebook account and share their plans and activities.
New Widget – A Double Win for Todopuebla
A widget was embedded on the site to list ongoing movies and top events exclusively and became a unique selling point.
The widget appeared on the websites of all top newspapers in the valley of Puebla.
The widget boosted the search results, skyrocketed the traffic and surged the overall online ranking and performance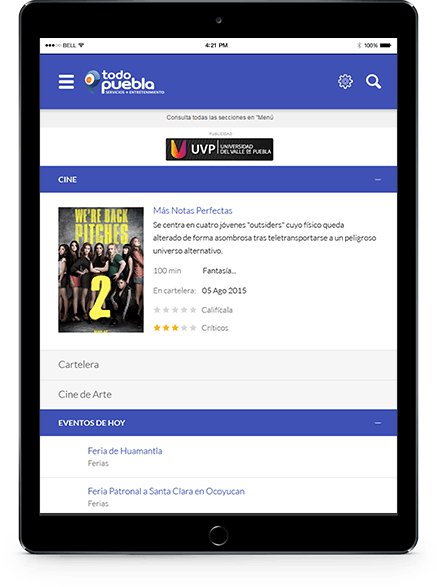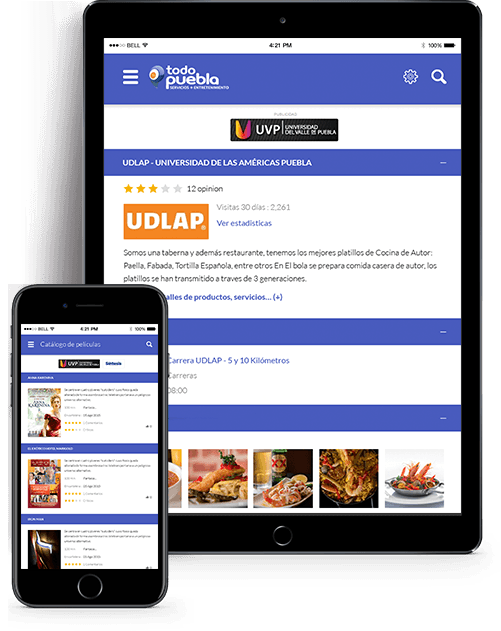 Growth Engine for Local Businesses
Top businesses could now list themselves on top, underpaid big, mid-size or small banner categories.
Small businesses could list themselves free by simply registering themselves.
Listed businesses, events and promotions started selling more with the number of visitors multiplying.
Todopuebla became a popular platform for businesses to connect with the citizen.
We integrated Google Analytics to track user engagement and response for businesses to learn what's working and what's not.